The first guest on this series of mental health talks is Nicole Anette, a passionate writer, coach, teacher, journal maker, and podcast host of The Journal Coaching podcast. My go-to resource on the topic of writing for self-care and a constant source of inspiration and motivation which she generously shares on her IG page @journaljunky.
Journaling has, as she says, had a huge impact on her life, and has promoted insight, healing, personal and professional growth. In a year of my own journaling, inspired by the ˝morning pages˝ routine, as described in The artist˙s way book by Julia Cameron, I witness the power of this accessible and insightful tool, which can easily change your perspective and lead to personal transformation. With great delight and honour, I invite you to read Nicole`s inspiring story, hoping you will learn from her as I continue to.
* * * * *
˝ The laundry was on the bedroom floor. In piles. Loads and loads of clean laundry. When my husband walked in, he observed the room, looked at me and waded through the clothing, sat on the bed and held me. This was eight years ago and I was in depression.
My state of depression was caused by an acute form of Grave's Thyroid Disease. My body's hormonal system was off the charts and I was mentally and emotionally in distress. I would wake in the morning with enough energy to feed my 1-year-old son and wash a load of laundry, and those tasks completed my day.
For two years, I struggled to find the energy I needed to live a sustainable life. But strength evaded me. While my body was lacking momentum, my thoughts were picking up speed and I was unable to simply focus on one thought.
I remember sitting in the shadows watching the evening light shine through the living room window and thinking of how quickly my life had changed. I was in unfamiliar territory. My body, my thoughts, my emotions and my choices were all unfamiliar and I was scared.
I sat in silence the whole day and spiralled further into my depression feeding on the guilt that I had "done this to myself." My doctor told me that years of stress, burn-out and adrenal fatigue sent my body into survival mode and finally, it was fighting back -against itself. I was depleted.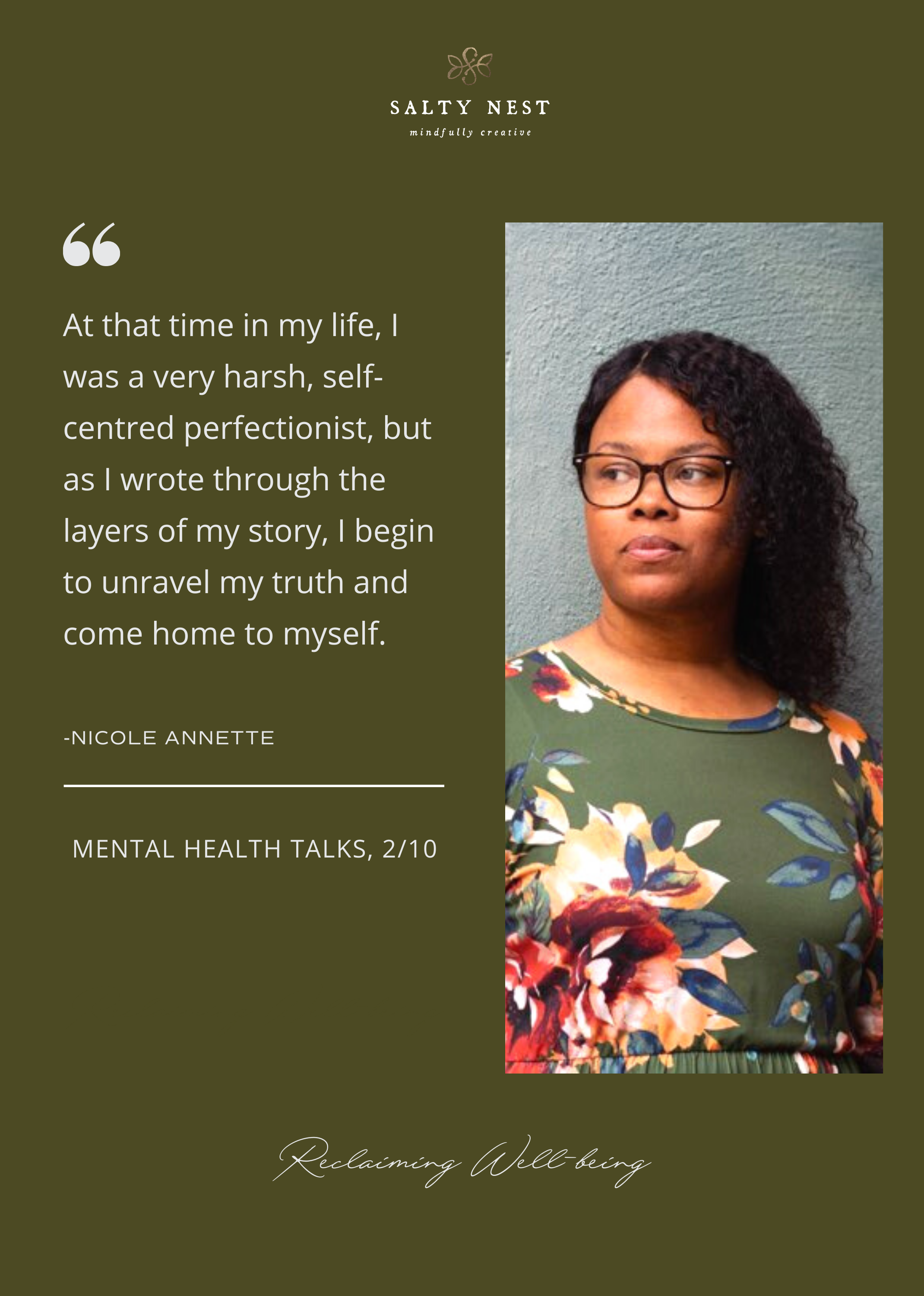 After two years of holistic healing support, I still hadn't made satisfactory progress and my life was in jeopardy. In the end, I made the hard decision to have radiation treatment. During the treatment, I was required to live in isolation for 10 days and I was called to make a choice. I could either spend the 10 days spiralling deeper into self-pity, self-loathing and negative thinking or I could cling to a morsel of faith and fight. I chose to fight. Since my words were the enemy and were pounding me with disempowering language, I chose to fight in-kind so I picked up my journal and started writing. As I wrote down my thoughts, I noticed the care and compassion I received in the form of family and friends. They brought me daily meals and supported me with encouraging words. With this awareness, I questioned myself, my desires, my thoughts, feelings and intentions in life, and healing began.
I filled my journal that week and those words changed my life. At that time in my life, I was a very harsh, self-centred perfectionist, but as I wrote through the layers of my story, I begin to unravel my truth and come home to myself.
Four words showed up constantly and wove themselves into my 10-day journaling practice. They were: give, inspire, create and connect.
I asked myself the following questions:
What am I able to do and give?
How can I nourish and inspire myself and others in a supportive way?
What can I create that will make a difference?
How can I create deeper heartfelt connections with those around me?
The answers to these questions transformed my life and now I live with an infusion of these core values.
My health slowly began to improve shortly after the radiation treatment, but eight years later, I still fight daily to stay focused on the good in my life. The reality is that I will always live with a chronic illness, but it's a constant reminder of my journey of becoming fully "Me." So in the end, perhaps my illness was my body's way of calling me to PAUSE, REFLECT + REST. I'm proud of myself for heeding the call from that time, until now.
The lessons we acquire throughout our human experience are rich and nourishing if we take time to pause, notice and open our hearts to receive their gifts.˝
*N I C O L E A N N E T T E
Nicole Annette is a passionate Writer, Coach, Teacher, Journal Maker, and Podcast Host of The Journal Coaching Podcast. Her mission is to teach other heart-centred women leaders to identify and rewrite the stories that keep them depleted, so they can FLOURISH + NOURISH those they love, care for and serve.
Nicole lives with her husband and two boy-folk in beautiful Asheville, NC where she wanders the gardens of the local arboretum and writes in newly discovered coffee shops. You can read more of her story through her Instagram page @journaljunky.