To walk the path of heart means to do something you are passionate about, and for many it can be as exciting as it is frightening. In my case it involves a lot of learning, mastering new skills, and building confidence alongside the experience. But no matter the (sometimes obvious) progress there came a point when I realized I can't do it all by myself. That is where Jo McCarthy and her efforts to support others on that path while walking it herself came in place.
In her own words, Jo (@jo_at_firain) is a mentor for creatives who want to sell their work online, living with her husband Ben between the mountains and the sea in North Wales, UK. And in my words, she is a warm, gentle soul, a creative herself, and as such a kindred spirit to every creative looking to fulfil their potential. With a versatile professional experience, particularly that involving working with a range of women devoted to shining their magic across any challenges, I figured she will be a perfect guest for this collection of intimate interviews, and I was not wrong. Her heart-felt share is a testimony to authenticity, devotion to one`s inner calling and flexibility – finding a way to walk that path oh heart, beyond doubt.
Read Jo`s story…
I try to live 'simply', focusing on people and the memories I make with others over anything else. What do they say – if it isn't adding up, subtract! I am driven each day to create something. I have a story to share about why.
I have a recurring dream when I am anxious, and it goes like this: I have an important art exam at school, and the deadline is tomorrow. I am 17, distracted by gossipy friendships and the glimmer of adult adventures over the horizon. I know I should have so much more work to show than I have, and I can feel my heart racing under the enormous pressure to create. The paint is there. The canvas is stretched and ready. My mind is blank.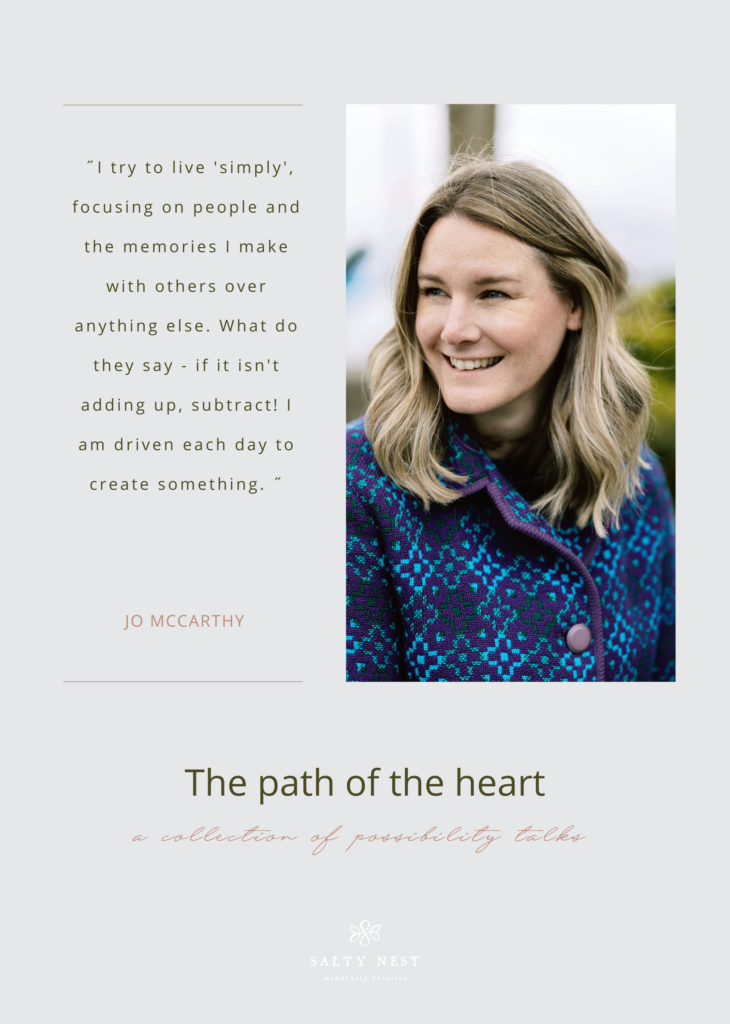 I usually wake up at this point, feeling a little breathless. It's all so true, such an accurate memory, that I sometimes wish I could time travel and just get on and do the work. Each time I have this dream, though, something magical happens.
` My advice is to go back `
It propels me to keep my focus on my creativity, in all its forms and meanings, and most importantly, to focus on it in a way that I decide. I know now that ideas, and outlets for those ideas, don't run out. They never have. Although I did indeed flunk my Art A-Level, I worked through the night to produce something I was proud of, even if it didn't mean the conventional standards of what 'art' meant in that context. The unfolding pages of my story are punctuated by memories of feeling disconnected from creativity (standing under the armpits of a sullen grey banker while commuting in London) and of being so utterly smothered by the feelings of creativity that I could hardly breathe (my time as a student at Goldsmiths and lately, no-rules playtime with my little nieces where I allow myself to make and create for the pure fun of it). 
I feel fizzy so much of the time these days. I work with artists, makers, shop curators, and others who also decide how they create why they create, and my job is to help them make money from it so that they can do more of it. So I try to tread softly, knowing that they might too have dreams like mine, times when they wished it had gone differently.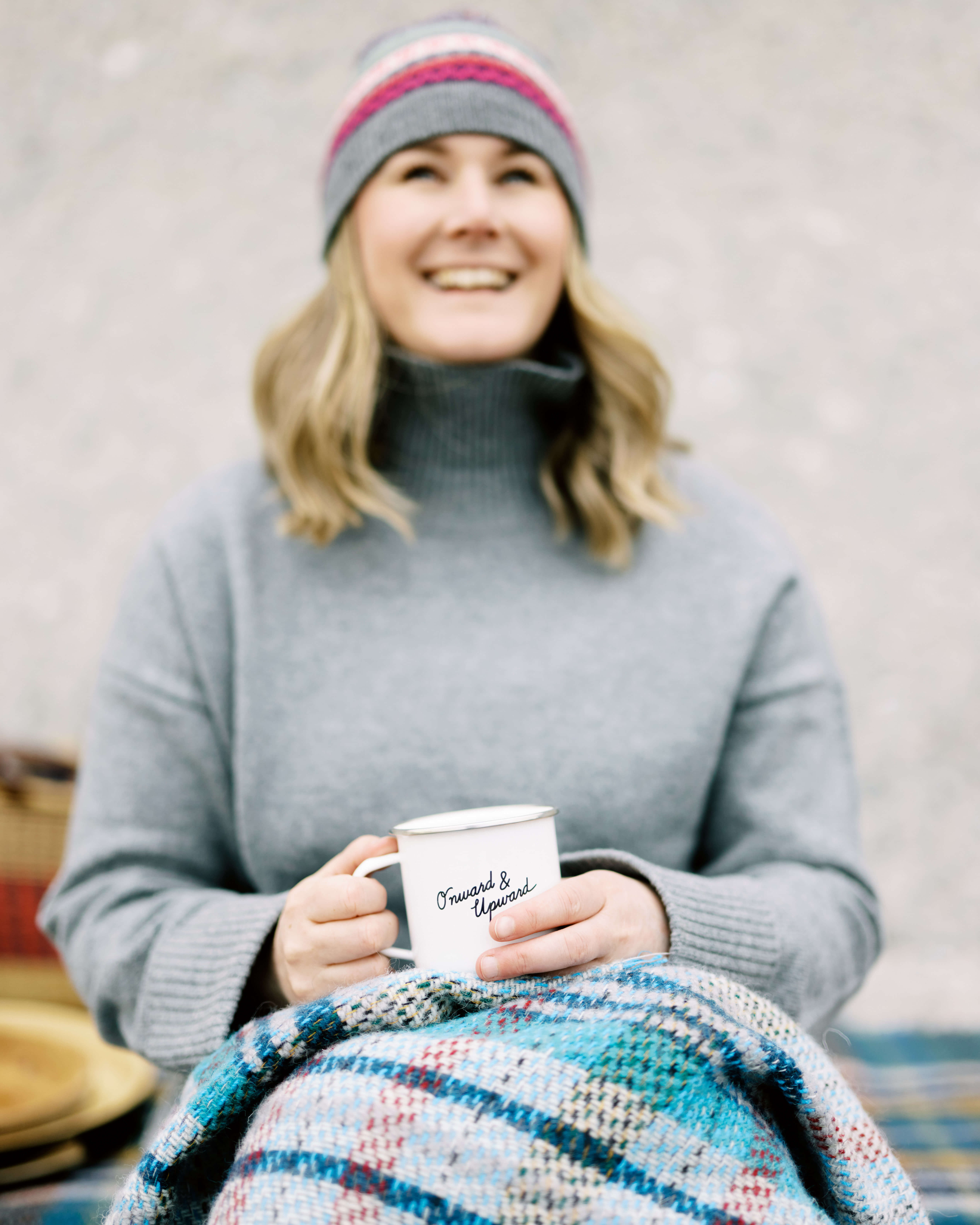 The unfolding pages of my story are punctuated by memories of feeling disconnected from creativity and of being so utterly smothered by the feelings of creativity that I could hardly breathe.
My advice to anyone a little unsure of their path is to go back…back….further. The early steps are there. It's also wise to stay flexible broad-minded. Avoid being squashed and moulded by the shapes other people make. Find your own. I am doing that these days, and it feels really rather good.
My 'business experience' is varied, from working as an estate agent in the city and countryside to marketing events for teachers in central London. I opened an online gift shop in 2017 and, against the backdrop of a series of enormously traumatic personal events, I shifted the business from being an online shopkeeper myself to helping others in their pursuit of this dream. 
` I wonder if my enthusiasm was contagious? `
It was an idea that came to me quickly but felt so right. Just like seeing an old jumper you'd forgotten about and throw on immediately. I wonder if my enthusiasm was contagious because I had clients before I officially launched the idea. I try to learn in the open, and shared my embryonic idea before I had named it or decided how it should live in my life,
When I wobble – which I do all the time – I ground myself in the wise words and comforting reassurance of the good people in my life. I try to listen, actively listen. I have a note on my desk that says: 'pause, breathe, listen' which slows me down.
If you're worried about the path you want to take, try this: ask, 'what's the worse than can happen?' and go from there. Be sensible and foolish and flippant and grounded – all these qualities can mingle together quite happily if you let them.