Although I came across Una Pašić Gregović (@una.bridged) long after both my pregnancies and postpartum were behind me, which made her content seem unrelatable, there was something about her energy that loured me in. The sisterhood in her voice and sparkling love for life in her message were enough to keep me close. And I am grateful for having sicked around for I gained a fortune from witnessing her commitment to following her calling and her openness to embracing the ebbs and flows on that path that. Having read her full story which she generously shares in this collection reaffirmed my admiration for her audacity and added support to my devotion to pursue my own path. I am sure you will feel the same having read it. If you are looking to take the leap, her story alone should carry you through.
In her own words…
After graduating from university in Zagreb, where I live, I worked as an event organizer and project manager, but a series of events soon unfolded which lead me on a different path. I felt inspired to discover my true calling by abandoning the " known " in order to find what my heart was drawn to. After a diagnosis of infertility and an emotionally difficult period for me and my husband, I threw myself into my work routine, only to discover that despite the diagnosis, another heart was beating beneath my own.
Pregnancy, although sudden, instantly changed my perception and priorities. By becoming a mother, apart from owning that irreplaceable role, I was put on a path that completely changed my business expression in a way where I did not change my job but discovered my call.
During my pregnancy, I was afraid of everything and there was always a question mark in my head and that everyday fear that everything could go wrong until I discovered doulas. Wonderful women who educate, support and with their warmth and knowledge create a safe space where, for the first time, I felt that everything would be fine. At that moment, my pregnancy and my perception of it changed, and I thought, "If I could give one woman, as a doula, the peace I found, I would know I've fulfilled my purpose." That belief in me grew so strong, firm and unwavering, that I just didn't feel there was room for reflection, I knew that this was what I was called to follow, the voice I couldn't ignore. It was around that time that started researching opportunities for education and making calculations to see if this could be something that I could work exclusively, or would it have to be something I do "on the side".
Although the initial urge was indescribably strong and drew me like nothing else in my life as far as work was concerned, doubts soon arose.
´Doubts began to gather, but I found myself dreaming´
I wondered if it made sense after graduating from college and landing a steady job in the profession, and in a position of which someone my age could hardly dream of? Am I giving up on that? That sense of safety and in some ways prestige? What if I fail at this? How will it reflect on me and my family financially? Do I even have what it takes to do a job like this? Is there any demand for such services in our country and will I be able to find any clients?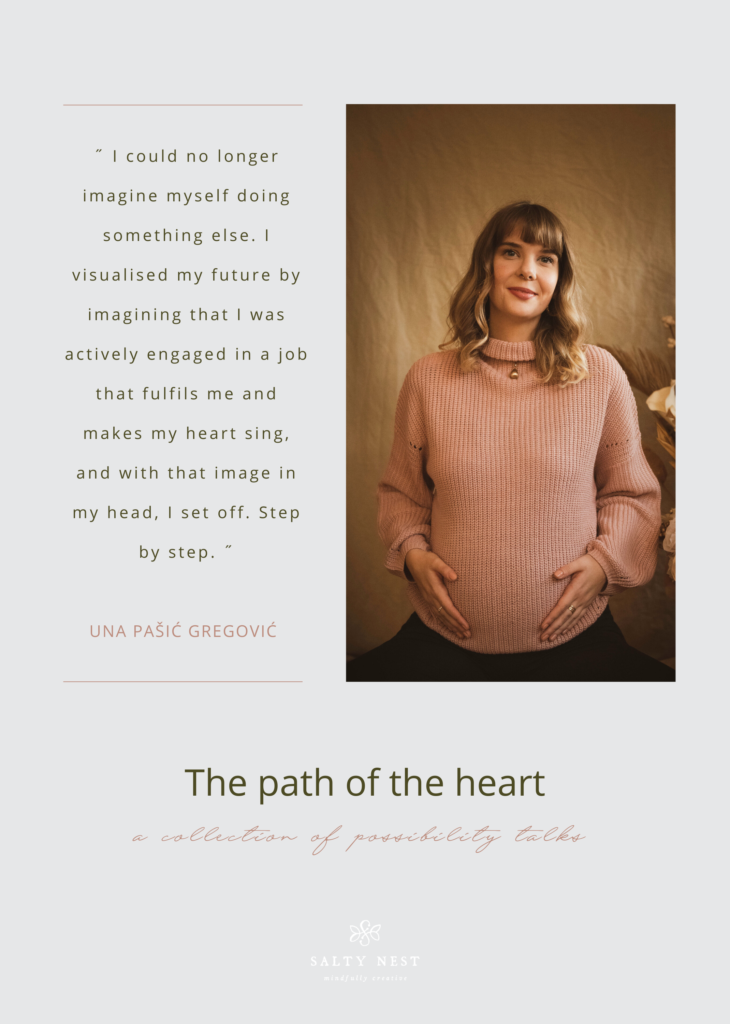 It's weird now to look back and wonder what it would have been like if I had given up somewhere along the way, giving primacy to doubts.
Doubts began to gather from all sides, but I applied for the education which took place only half a year later regardless. My thoughts were: "I can always change my mind", ˝I am not committing to anything˝. That's how my pregnancy was going, and as time went by I became more and more aware that I wasn't happy with the job I was doing. With each new day it was getting harder for me to go to work and I found myself reading books on being a doula and dreaming about working as one. I also had a desire to open a blog because I had the feeling that I had so much to say without even knowing where to start. But chance had it that a blog I soon began witting, mostly for my own sake, centred around a holistic approach to women's health, with a focus on pregnancy, childbirth and postpartum, grew into a larger platform and eventual a whole brand within a few short years.
It's weird now to look back and wonder what it would have been like if I had given up somewhere along the way, giving primacy to doubts. I wanted to, and too many times uncertainties washed over me, and they still do. But the beginning was the hardest because I felt pretty lonely in all of it, apart from motherhood. I was the only one in my immediate environment who had a child and decided to change a stable career to start doing something that was almost completely unknown and seemed abstract to everyone who knew me. The only unwavering support I had, and continue to have, was from my husband, who immediately said "you were made for it" and did not doubt it for a second. Although I know that we need to find the inner "drive" in ourselves, to me his faith in me, which was so firm and natural, was exactly what would silence the doubts or opinions of others. It still plays a big role for me.
´I find that inner voice that reassures me´
My husband, my son, and the baby that is just growing in my belly as I write this are my inspiration, motivation, and confirmation that I am on the right track. Over the years, the environment somehow grows quiet, some because you showed who you truly are, so they began to understand and respect that, and some simply leave. It took me a long time to accept that it was okay and even necessary. Not to feel quilt for no longer having them in my life. It is a hard lesson to learn when we decide to live authentically and find that courage (because it is brave to live this way), to see how some people no longer want or can be a part of that life we choose to create. But it is necessary and inevitable, and it carries with it valuable insights.
I never lack inspiration because it is simply all around me. Every beautiful woman I work with, every wonderful couple I meet and every baby and child with who I share precious moments, even short ones, motivate me to be better at what I do. That is why I continued to educate myself for the postpartum, as a breastfeeding counsellor, a childbirth educator, a nutrition counsellor… and in everything I learn and apply, I find again that inner voice and a guide that reassures me that I am on the right path.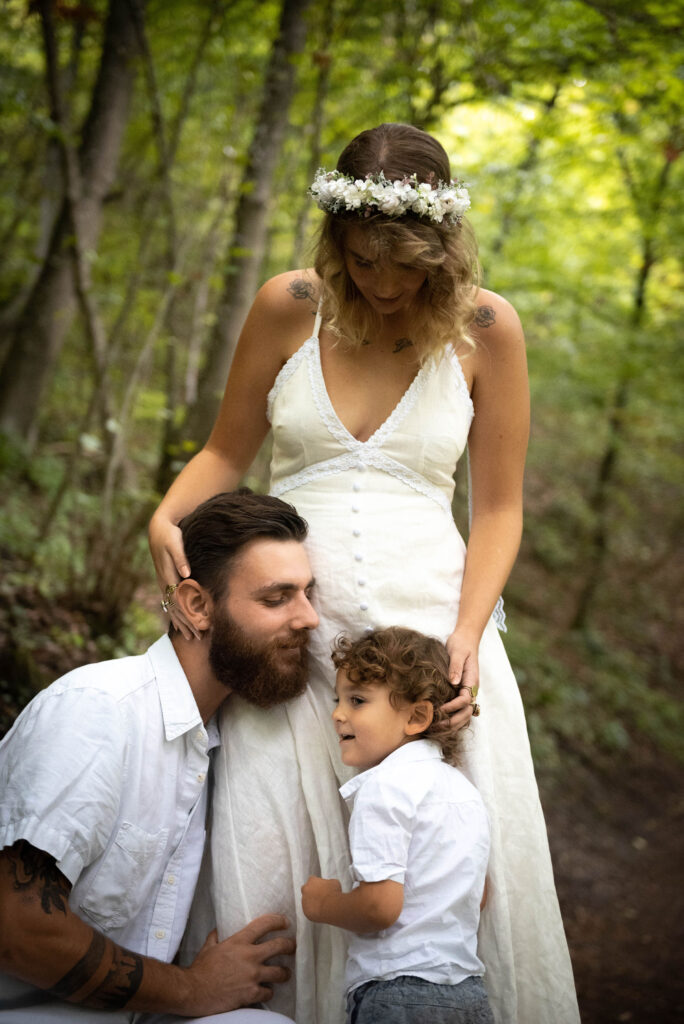 I often remind myself of the worn-out sentence "Nobody said it would be easy, they just said it would be worth it".
It wasn't always easy, and even now it isn`t. I often say that when I look back on those first days, weeks, months of work… everything that bothered and worried me is now funny and sweet because I now have a new set of "pain and worry". But I also know that in a couple of years I will laugh at these too, because new obstacles will await me there, and there will always be more challenges to face. I often remind myself of the worn-out sentence "Nobody said it would be easy, they just said it would be worth it".
I could no longer imagine myself doing something else
They say that to begin is the hardest thing to do, and I really think it's one of the biggest obstacles we have to overcome. Because how do we make such a big decision alone? What if we fail? Where do we even start from?
My biggest fear was that I couldn't find clients. Or if after a while I realized it's not for me and wanted to go back to the "old" profession and I couldn't find a job?
But I could no longer imagine myself doing something else. I visualised my future by imagining that I was actively engaged in a job that fulfils me and makes my heart sing, and with that image in my head, I set off. Step by step. I would even say micro-steps. Along with motherhood and baby (which was a great inspiration for me because I felt on my skin what pregnancy, childbirth, recovery, breastfeeding feel like ), I studied, shared my experiences, and gained more and more knowledge. Little by little I built an online community and myself in that sphere and my business along the way. And clients slowly came, first friends, then their friends and acquaintances, then women from the online community I created. I realized that the size of the steps we take on the road is not what matters, because a lot of small ones cover the mileage just the same. It's important to feel that where you are is exactly where you need to be and that the rough direction in which you walk is the one that you feel drawn to.