If you appreciate being held, inspired and motivated, this simple manifestation of self-care and nurture can help you move forward on the way of personal growth.
I had a desire to create some kind of a direction-setting board for some time now. No clear vision, just a wish to have a focus catcher of a sort, filled with inspiring items of beauty and meaning. Something to hook my scattered, daydreaming thoughts and lead them to clarity. But when I considered vision or mood board, neither spoke to me. One was too much of goal setting tool, and the other much too… well, mood oriented. And then I realized that what I need is where these two meet gentle intention setting. So in the process of creating a visualization exercise for my blooming guide (get your free copy here), I envisioned and created a draft for a board after my taste, aptly naming it a blooming board.
This first draft was shy, as is anything we create uncertain if it will work. It so happened that I enrolled on my first photography course about that same time, so I needed focus to develop my style, and I found a lovely grid to serve the purpose. I remember thinking how huge it was and feeling timid by the prospect of filling that space in a meaningful and powerful way as I imagined.
Intuition tells us when to dive deeper
So I began in a humble, yet hopeful way, sowing in the seeds of my dreams of becoming. At first, there were just some prints of the photos setting my desired direction and words to describe it, accompanied by my word of the year and my blooming words as uncovered in my guide. And, of course, the one affirmation, or should I say THE ONE affirmation -I am enough, which, in a way started the whole process. Written as advised by a caring someone who thought that these words could make a difference for me. And even as I initially had little faith that they really would – they did. So, thank you, Jeff 🙂
And as I observed the change within that fallowed, over time I started to give more credit to this power tool, entrusting it with more tasks. Today I see it as a reflection of my most nurturing and self-empowering thoughts and intentions embellished with inspiring and soothing tokens of beauty. A place to rest, comfort and elevate my mind. So here is what I find works best when combined to create that magic.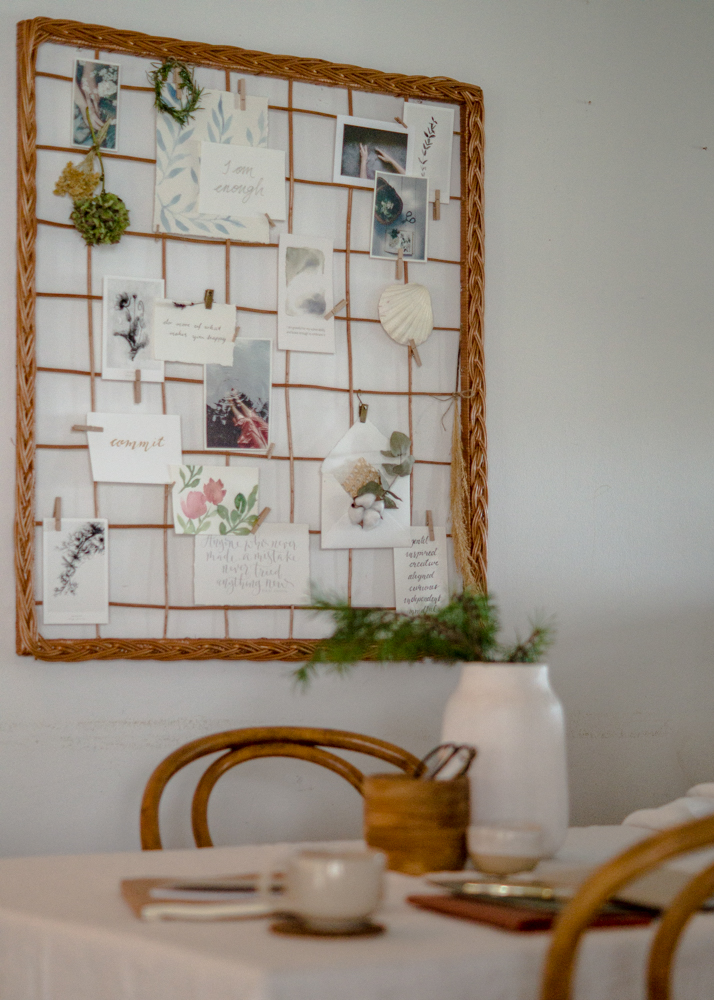 Three things you should consider when designing a blooming board
Choosing a way to display
Naturally you will want to start with a board itself. As I see it you have a couple of options starting from a grid, which was my first choice, and I strongly recommend the one shown in the photos, as it had me at hello. You can find it on @viuviu_decoration IG profile page, handmade by lovey Martina. If you are not in a position to invest, you will find plenty of DIY projects on that topic online, the easiest and most affordable being to simply stretch some craft paper and frame top and bottom side with thin wooden slats. You can even tape your content on the wall, plain and simple if you are not in the mood to make it into something too elaborated, though the idea is to make it look beautiful, so do it with care. And if you are lacking wall space to deliver this content, you can create a folder connecting two cardboards with tape, and design your magic inside. But do keep it open and displayed, so it gets a chance to do the work. Leave it by your bed -if you do not have a desk or a corner to call your own.
Choosing intentions to set and affirmations to consider
You should be clear about your shortcomings and flaws to deliver the message you need to hear. Those that make you think less of yourselves and do less for yourself. And then also consider why is it that you do, or think so. Not to say that any of us is flawless, but to stress out that a distorted, diminishing self-image is often something you might wish to work on as well. This is where you start, and you do it by choosing no more than three things to work on. The trick is to create affirmations to gently move your self-perception from that place of lack to a place of abundance. For example, I (used to) have a problem with making time for myself. I had no conviction that I was deserving of such a reward in my busy schedule, feeling the need to please everyone else before myself. So my re-framing affirmation for that issue is – I deserve to invest time into doing things that make me happy. It is said that it takes several positive inputs to overpower a single negative belief, so feel free to add more that one affirmation for every change you wish to see, or switch them over time.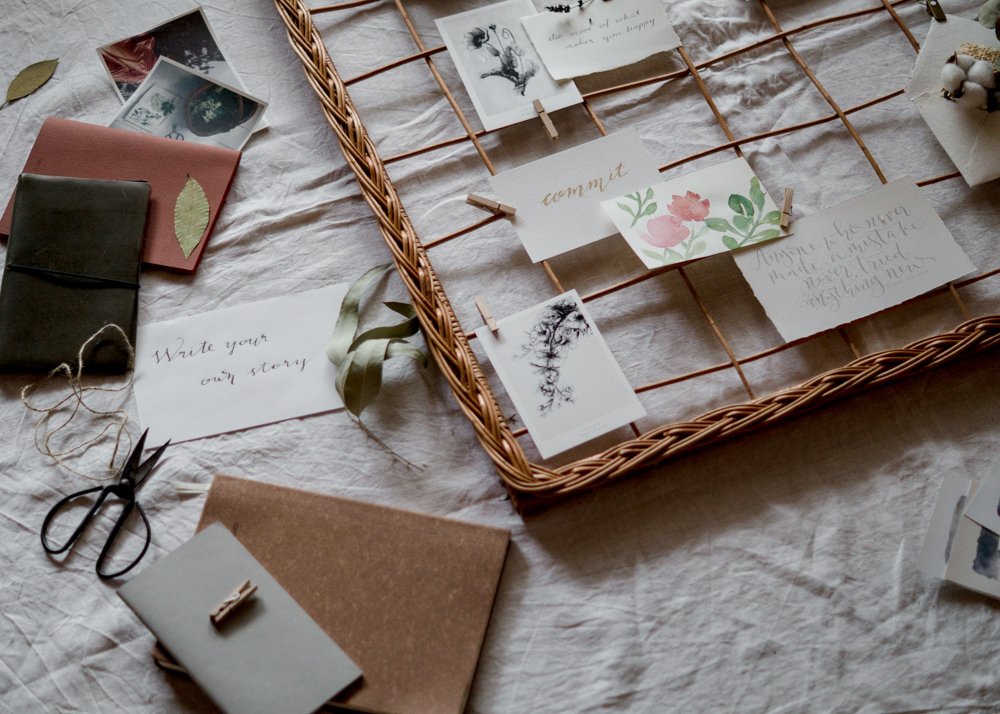 Choosing visual inspiration to nourish your soul
It would be best if you would be able to design your board in a way which would be appealing to look at, and desirably matching the style of your home, so it wouldn't be weary to have it around. You need to pay attention that is not too cluttered either, and that it is designed around colour pallet complimenting the one in your home, preferably focused on neutrals, with accent colours chosen accordingly. I use some photography prints which I find on Pinterest and print them on my very basic printer, using thick art paper, so they wouldn't bend and look all crumpled. I also like to add a touch of floral and botanical art I create using watercolour, but occasionally also purchase or print art from some of the creatives I admire. Again, Pinterest is a great source for such print options. And finally, I like to add some texture by pining a few voluminous items. My board will have an envelope filled with dry flowers, there will be pressed herbs specimens hanging from a tiny wooden peg, perhaps a silky or lacy ribbon, or a bow, and a sample of a fabric with a delightful pattern, or texture to add grace. Any other collectables are more then welcomed if desired.